04/05/2008
Welcome Chez Flo
Welcome Chez Flo, the new blog telling the adventures of Flo in Bangladesh.
First of all, some basic news. I just arrived couple of days ago and until the house is ready, I stay in a guest house let say... just clean! I am writing right now from what they call the business center which is just a computer and a chair behain a dark bow window...
Anyway, here I am, starting this new adventure, in a new country with new people. Thanks god I have people supporting me, believing in me because I can tell you that when I am alone at night in my room surrounded by my life in 8 suitcases, it's good to think of you all.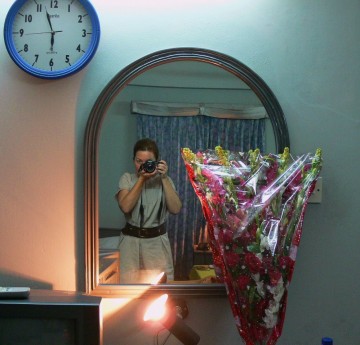 I need to adapt myself to this new culture as everything takes mucccchhhhhh morrreeee time. I think it's an excellent school of patience. I believe the most difficult for me at the moment is to stay in this guest house. But at least I have a real benchmark experience ;-). I can tell you that I will do much better!
For those who just arrived here, what is
Chez Flo
?
Chez Flo
is a "Responsible Guest house" welcoming tourists, travellers and volunteers who come to Dhaka for business, as a stop over or to spend some time as volunteers in the surrounding NGOS.
Chez Flo
is the starting point of Responsible Business that Florence will develop in Bangladesh. This country has an amazing development potential and the human resources necessary to operate a really soon take off. It needs ideas, training and a small financial input to do so and that's where all of us are involved.
For proof the meeting I had this morning with the Managing Director of a Branding Company who is working with the Chamber of Commerce on "how to brand Bangladesh". I am very excited by the idea to participate to couple of workshops just to add my input in term of branding knowledge and also by the fact that we spent 3 hours sharing ideas and opinions about responsible business and changes that will occur in the country in the next 3 years.
This morning I found someone sharing the same ideas and it makes me feel much less lonely ;-))
Regarding the renovation of
Chez Flo
, the work is in progress. Painting of one room is complete, we just bought the beds and fans. We will negotiate the AC tonight as it's a huge budget... Now we are working on how to set up the
Home Cafe
to give it a friendly and simple feeling. It will be a mix of French and Bangladeshi. I have some pictures but I am worried to show them to you right now because you will say I am crazy (even if I have to be a little bit to start this new adventure ;-))) I prefer to wait couple of days in order to give you a "Before" "After" feeling ;-
Please do not consider the design of this blog definitive as I am struggling with Photoshop right now in order to create the banner and harmonious colors.
A special standing ovation for Mariam who designed the logo even if it is not the final one ;-)) she is extremely talented and if anybody in Dubai is looking for a great young Emirati lady to join a creative team, I definitively recommend her. For any details, please contact me ;-))